FEE-STRUCTURE
Academic Fee for Students(Direct Admission) admitted in Session 2019-20

{A} Fee
Fee Head
First year                        (Direct)
2nd yr Lateral (Direct)
Tution Fee
97000
50000
Student Activity
9500
9500
Logistic Charges
7500
5000
Book Bank
1600
1600
Total Fee
1,15,600/-
66,100/-
{B} Other Fee
Registration Fee (Annualy)
2500
2500
Admission Process Fee                                                (At the time of admission only)
4500
4500
Examination Fee (Annualy)                                                                        (Will be transferred to University)
7500
7500
Medical Insurance (Annualy) (Will be Paid to Insurance Company)
700
700
Uniform Fabric (At the time of admission only)
5,100/- (Cash only)
{C} Securities
Academic Security (Refundable on Completion of Course)
15000
15000
Book Bank Security (Refundable on Completion of Course)
3600
3600

Academic Fee for Students(Counselling) admitted in Session 2019-20

{A} Fee
Fee Head
First year                        (Counseling)
Fee Waiver
2nd yr Lateral (Counseling)
Tution Fee
97000
0
50000
Student Activity
9500
9500
9500
Logistic Charges
7500
7500
5000
Book Bank
1600
1600
1600
Total Fee
1,15,600/-
18,600/-
66,100/-
{B} Other Fee
Registration Fee (Annualy)
2500
2500
2500
Examination Fee (Annualy) (Will be transferred to University)
7500
7500
7500
Medical Insurance (Annualy) (Will be Paid to Insurance Company)
700
700
700
Uniform Fabric (At the time of admission only)
5,100/- (Cash only)
{C} Securities
Academic Security (Refundable on Completion of Course)
15000
15000
15000
Book Bank Security (Refundable on Completion of Course)
3600
3600
3600
View Documents required at the time of admission
Hostel Fee Structure for 1st Year / Lateral Entry Students
| | Girls | Girls | Boys |
| --- | --- | --- | --- |
| Item | Double Seater Room | Single Seater Room | Double Seater Room |
| Hostel Fees | 78,000 | 80,000 | 78,000 |
| Security (Refundable) (Hostel Security is to be paid at the time of first allotment) | 10,000 | 10,000 | 10,000 |
| Total | 88,000 | 90,000 | 88,000 |
Electricity Facility for Cooler can be availed by the Hostlers by paying Rs.3,000/-p.a. Heaters are not allowed.
Only vegetarian food will be served.
The payment of Hostel Fee would be annual for all and is to be paid in full. Fees once paid will not be refunded or transferred to the name of any other person under any circumstances.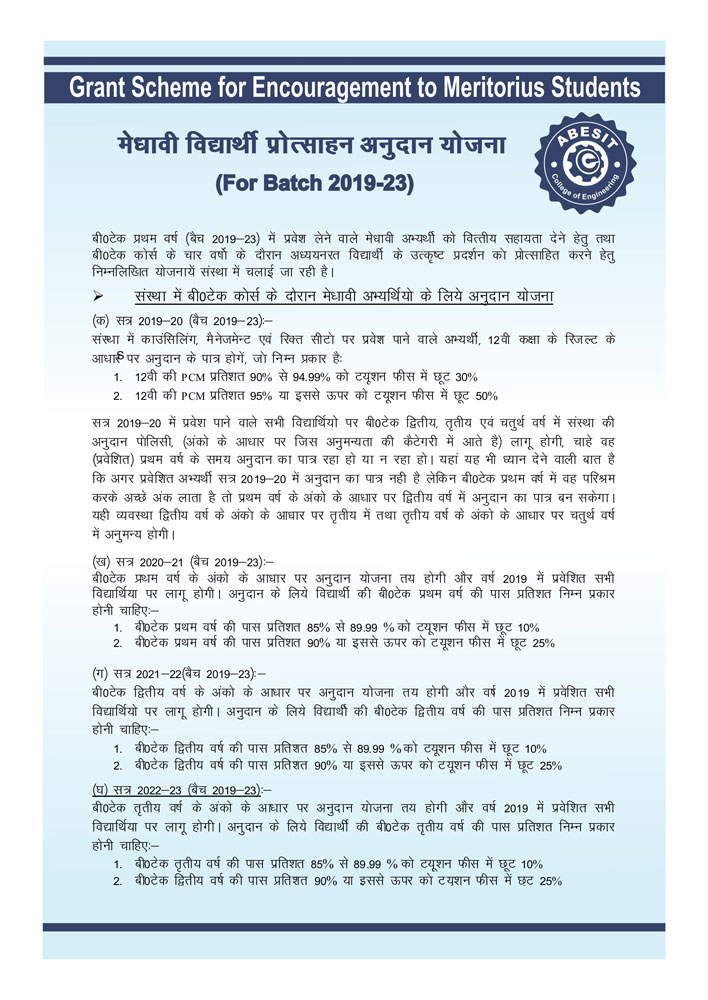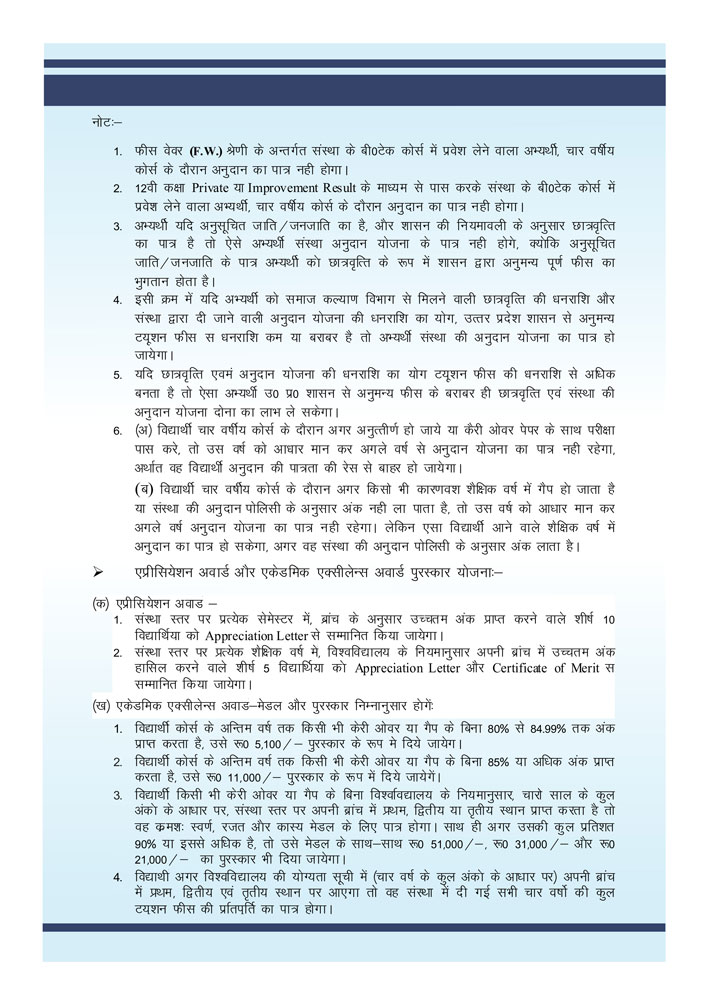 The fee can be paid in the following ways:
1. 
Bank Draft
 in favour of "ABESIT" payable at Ghaziabad or Delhi. (Detailed information like name, admission no. and mobile no. of the student to be written on the back side of the draft.)
2. 
Online Fee Payment
 to be made by clicking at the following link:
https://smarthubeducation.hdfcbank.com/SmartFees/Landing.action?instId=4256
Select the Institute as "ABESIT,Ghaziabad" and further proceed with the payment.
3. 
Pay Fee Challan
 can be printed by downloading the following link:
DOWNLOAD PAY FEE CHALLAN
Once the payment is made, a copy of the Challan has to be submitted in the accounts office at ABESIT. After that, a receipt will be provided to you following the confirmation of your fee deposit.
4.
Paytm
can be used by clicking the following link:
PAY USING PAYTM