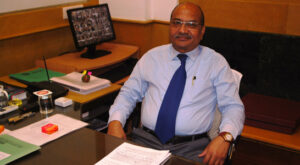 Prof. (Dr.) Vipin Garg
Advisor
Email: advisor@abesit.in
Ph.D. from Karnataka University, Dharwad; Post Doctoral Research work from Punjab University, Chandigarh as a National Associate of UGC, he started his Teaching Career in 1972 from Roorkee. He possesses 46 years of Teaching and Administrative experience with India's leading Institutions. He has been a Former Vice-Chancellor, C.C.S. University, Meerut; Former Advisor, AICTE, Govt. of India, New Delhi and Principal at I.P college, Bulandshahar. He has guided many students for Ph.D. degree and Post Doctoral Fellowship under Major Research Schemes. His career span includes various National and International visits including Germany and Japan. He has several Professional Fellowships, quality Research Publications and 3 books to his credit.
He has also been a member of various National and State Level Technical and Non-Technical Committees which include All India Board of Pharmaceutical Education and Technical Advisory Committee for study areas of Human Resource Development, Institute of Applied Manpower Research, New Delhi. He is awarded as a 'Jewel of India' by International Business Council.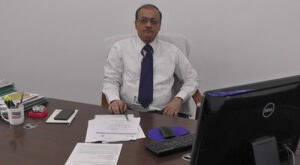 Prof. (Dr.) Manish Kumar Jha
Director
Email: director@abesit.in
Ph.D. (Engineering) from Birla Institute of Technology, Mesra, Ranchi, India, Prof. (Dr.) M. K. Jha has a professional experience of 26 years comprising of 21 years in Academics and 5 years in Industry. He joined ABESIT, Ghaziabad as a Director on July 23, 2018. His major Teaching and Administrative experience have been at B.I.T. Mesra, Ranchi; Mody University of Science & Technology, Lakshmangarh, Rajasthan and ABESEC, Ghaziabad. He has guided several research scholars for Ph.D. degree predominantly through ISRO funded project – Design and Simulation of a New Energy Efficient ML-MAC Wireless Sensor Protocol. More than fifty M. Tech. dissertations have been successfully completed under his supervision. He is a lifetime member of The Institution of Engineers and ISTE.
Professor Jha's research interests are in Wireless Sensor Networks (WSNs), Communication Systems, Applications of algebra and number theory for fault tolerant and combinatorial designs. He has published about 75 journal and conference papers and edited several conference proceedings.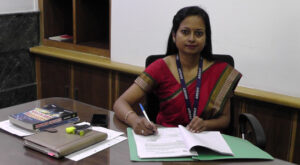 Prof.(Dr.) Sapna Katiyar
Dean Academics & Head, Department of ECE 
Email: sapna.katiyar@abesit.in
Ph.D. from Jamia Milia Islamia University, New Delhi and M.Tech. in Communication Systems, Prof. (Dr.) Sapna Katiyar has more than 17 years experience in teaching. Her areas of interest are Adaptive Control System, Image Processing, Communication Systems, Microcontroller and Artificial Intelligence. She has authored seven books in the areas of Communication: Satellite, Optical, Advanced Communication Systems, Telecommunication and Television for UG and PG courses for UPBTU, RTU, PTU, MDU and IP Universities and for all India level. She has published 6 papers in Index Journals, 4 papers in International Conferences and 20 papers in National Conferences. Prof. Katiyar received Teacher's Excellence Award for "Number of Papers / Journals and Books Published" by Confederation of Educational Excellence on 6th Sept, 2014. She is also active member of many professional societies: IEEE, ISTE, ISTD, IETE and Indian Women Scientist.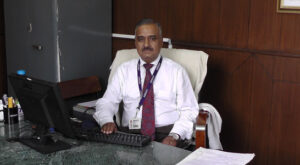 Prof. S.B. Bajpayee
Professor, Head -ABESIT Centers of Excellence & Innovations & Proctor
Email: sb.bajpayee@abesit.in
Prof. Shyam Bihari Bajpayee is a retired Air Vice Marshal from Indian Air Force, having 36 years of experience in selection, installation, training and maintenance of High Power Radar Stations, Communication Systems and High Speed Computing Devices & networking in India and Abroad in leadership positions. He was awarded Ati Vishisht Sewa Medal by President of India on 26 January 2009 for his duty of exceptional order.
Prof. S B Bajpayee has done his Bachelor of Engineering in Electrical Engineering from MANIT Bhopal, Master of Engineering in Advance Electrical Machines from IIT Roorkee and Master of Technology in Communication Engineering from IIT Delhi. He is FELLOW of IETE.
Prof. S B Bajpayee has extensive industrial and administrative experience. He has worked as Chief Engineer of Botswana Defence Force at Botswana (Southern Africa) from 01 May 1988 to 30 Oct1991, Station in Charge of R&AW facilities from 01 Jun 2001 to 30 Nov 2005 and has extensively worked on state of art projects with reputed Organizations / Firms i.e. Westinghouse, Baltimore (USA), Thomson CSF (France), CISCO (India), BEL (Ghaziabad), CEL (Sahibabad), HAL (Bangalore), ITI (Bangalore), Airport Authority of India, MTNL (Mumbai and Delhi), BSNL, VSNL, Tata Communications, HCL (India), Reliance Communications (Mumbai) and many other small / medium industrial houses.
As Chief Technical Training Officer at Headquarter Training Command of Indian Air Force, Bangalore, Prof. S B Bajpayee has revised training and evaluation schemes for both Officers and Airmen for existing equipment and formulated training policies for equipment being inducted in Indian Air Force.
Prof. S B Bajpayee has worked for more than eight years in Krishna Engineering College, Ghaziabad. He joined KEC as Professor in ECE Department on 11th May 2009 and worked as HOD (ECE) from July 2010 to Jun 2013. Since 11th May 2012 to 23 July 2017, he functioned as Dean (Academics). Prof. S B Bajpayee has joined ABESIT on 05 September 2017 as Professor in ECE Department, Head – Centers of Excellence & Innovations (CEI) and Proctor.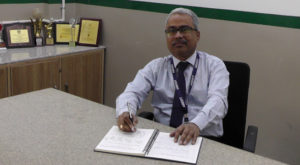 Prof. (Dr.) Dilkeshwar Pandey
Professor, Department of Computer Science & Engineering
Email: dilkeshwar.pandey@abesit.in
Graduate from BIT Sindri, Ranchi University, Post graduate from Delhi College of Engineering, Delhi University and Ph.D. in the area of Image Processing & Pattern Recognition (Image Retrieval and Indexing) from DCRUST, Murthal (Haryana), Prof.(Dr.) Dilkeshwar Pandey has been awarded National Merit Scholarship throughout undergraduate and graduate level. His areas of interest include Digital Image Processing, Pattern Recognition, Databases and Data Science.
During 28 years of experience in teaching and software development, he has been invited as a speaker at various platforms and chaired sessions in conferences. During his teaching career, he has taught various courses at undergraduate as well as postgraduate level e.g. Distributed System, Mobile Computing, Digital Image Processing, Soft Computing, and Artificial Intelligence. He has authored and reviewed some books.
He has been instrumental in setting up Big Data and IoT Lab in association with Datreon at ABESIT. He was awarded "Teachers Excellence Award 2014′ by Confederation of Education Excellence for outstanding contribution in Education.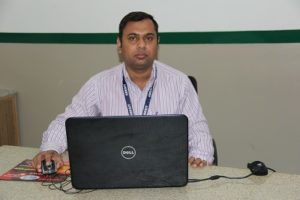 Dr. Rizwan Khan
Head, Department of Computer Science and Engineering
Email: rizwan.khan@abesit.in
Ph.D. in Computer Engineering from Jamia Milia Islamia University, New Delhi, M.Tech & B.Tech in Computer Science and Engineering, Dr. Rizwan Khan has more than 12 years experience in teaching and research. His areas of interest are Software Testing, Soft Computing, Design and Analysis of Algorithm, Theory of Computation. He has authored three books on different topics like Computer Fundamental and C Programming, Data Structure using C, Operating System for UG students. He has published 24 research papers in different journals of Inderscience, Elsevier, in Scopus Indexed Journals, UGC Indexed journals, one book chapter in Springer and 12 papers in IEEE International Conferences Indexed by Scopus. He is an active member of many professional societies: IEEE, ISTE, IETE, CSI, ACM etc. He is also in reviewer committee of different SCI and Scopus Indexed Journals.
Dr. S. K. Arya
Head, Department of Applied Sciences & Humanities
Coordinator, B.Tech. First Year Academic Governance
Email: sk.arya@abesit.in
Ph.D. from Thapar University, Patiala, Punjab, Dr. S. K. Arya has more than 16 years of Teaching, Research and Industry experience with leading Institutions and Laboratories such as National Physical Laboratory (NPL), New Delhi, Senior Research Fellow in DRDO funded project with Department of Applied Physics, BIT, Mesra, Ranchi and as a collaborative trainee in SAIL Ranchi with R&D group for materials characterization, Ranchi. His area of research is Condensed Matter Physics. He has proved his credentials as a researcher by publishing his work in International Journal of high repute like Royal Society of Chemistry and Journal of Physical Chemistry. He has authored 11 research publications in International Journals of repute and published various papers in National / International conferences. He qualified benchmark in FDP on "Use of ICT in Education for Online and Blended Learning", approved by AICTE & organized by IITB.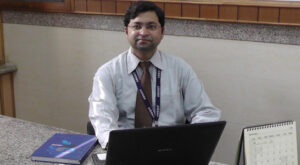 Avinash Chandra Trivedi
Head, Department of Mechanical Engineering
Email: avinash.trivedi@abesit.in
Prof. Avinash Chandra Trivedi has 12 years of experience which includes two years in the field of an Automobile Industry and ten years in academics. Prof. Trivedi has completed M.Tech. in Manufacturing & Automation. His area of interest is Industrial Automation, Engineering Mechanics, Fluid Mechanics, Refrigeration and Air-conditioning, Applied thermodynamics and Thermodynamics. During his academic period, he has attended various National Level seminars and workshops.
 
Bipin Kumar Rai
Head, Department of Information Technology
Email: bipin.rai@abesit.in
Prof. Bipin Kumar Rai has 12 years of teaching experience in different renowned institutions. His areas of interest are Cryptography & Information Security, Compiler Construction, Data Structures and Programming in C. He has published his M. Tech. dissertation work entitled "An Optimized Solution for Certified e-mail with Trusted Third Party" and published 10 research papers in International Journals/Conferences. He has worked as an associate-editor of IJITA and reviewer of JESIT journals. He received "Innovation Award" for Mentor of Team "Cerebro" by Ministry of Railways in Smart India Hackathon'17- World's biggest Hackathon.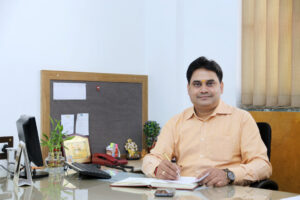 Nitin Jain
Head – Corporate Resource Center
Email: nitinjain@abesit.in
Mr. Nitin Jain is having a rich experience of more than fifteen years as a Placement Officer in leadership roles.
He has placed thousands of students pursuing graduate and postgraduate programs including B.Tech, MCA & MBA, in renowned companies. He has successfully conducted accreditation programs to provide ample opportunities for budding managers and technocrats.
He is presently associated with ABESIT as Head – CRC.
He along with his team members organizes various industry and corporate visits, to help students understand specific domains and organizational structure. He is also known for his great team performance and successful results regarding placement and internship offerings. All the faculty members appreciate his inclination for bridging the gap between academia & industry and thereby providing hands-on experience to the students for facing challenges effectively.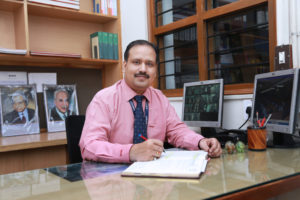 Dr. Rakesh Singh Tomar
Librarian
Ph.D (Lib. & Info. Sc.)
M.Phil (Lib. & Info. Sc.)
M.Lib. & I.Sc.
Email: library@abesit.in
Dr. Rakesh Singh Tomar has more than 16 years of experience in the field of Library & Information Sciences. He has done B. Sc., M.Lib. & I.Sc., M. Phil. & Ph.D in Library & Information Science.
His main career objective has been:
To provide the latest information at least cost to the right user at the right time & in the right personal way,
To procure the necessary information in the form of books and non-book materials and make it available to all the beneficiaries including students, faculty, and staff at all times, keeping in view the college curriculum with a comprehensive collection of all documents including course books, journals and inspirational material in the soft and hard format,
Knowledge enhancement using both traditional and technology-aided methods.
His areas of interest are: Information Literacy, Library Automation, Resource Management (soft and hard format), Collection Development, etc. He joined ABESIT, Ghaziabad as a Librarian on June, 2007.
He has published a number of academic research papers in various journals & conference proceedings, has attended various workshops, seminars and conferences. He has been associated with various academic & professional groups /bodies like UPLA, ILA etc.