Prof. (Dr.) Vipin Garg
Advisor
Email: ad@abesit.in
Ph.D. from Karnataka University, Dharwad; Post Doctoral Research work for Punjab University, Chandigarh as National Associate of UGC, started his Teaching Career in 1972 from Roorkee, possesses 40 years of Teaching and Administrative experience with India's leading Institutions. He is Former Vice-Chancellor, C.C.S. University, Meerut; Former Advisor, AICTE (which decides norms and standards for Technical Education in the country), Govt. of India, New Delhi and Principal at I.P college, Bulandshahar (Multi Faculty, Post Graduate, Co-Educational, NAAC accredited College with A Grade). He has guided many students for Ph.D. degree and as Post Doctoral Fellow under Major Research Schemes. He has various National and International visits including Germany and Japan, Professional Fellowships, quality Research Publications and 3 books to his credit.
He has also been member of various National and State Level Technical and Non-Technical Committees which includes Member of All India Board of Pharmaceutical Education and also Member, Technical Advisory Committee for study areas of Human Resource Development, Institute of Applied Manpower Research, New Delhi. He is awarded as 'Jewel of India' by International Business Council.

Dr. Bhavesh Kumar Chauhan
Director
Ph.D., (Electrical Engineering), MIEEE, LMISTE, MIACSIT, MIAE
Email: bhavesh.chauhan@abesit.in
He is an Electrical Engineering graduate of Aligarh Muslim University. He has been awarded Ph.D. by GBTU, Lucknow for his research work on 'Short term Load forecasting using AI techniques'; He carried out his research work at IIT Delhi. His doctoral thesis has been acknowledged by both IEEE and ISTE. He has published in international journals of repute, including IEEE Transactions on Power Systems. He is an active reviewer of international research journals. He has been awarded with Rotary Award for his contribution in technical education. As for international acclaim, one of his research papers had been presented at prestigious Massachusetts Institutes of Technology, Cambridge, USA. He secured C Certificate from NCC and has been both NCC as well as NSS officer in the past. He is literate in Hindi, English, Urdu and German Languages.
Possessing more than 19 years of teaching, research and corporate experience with leading institutions/organizations such as ZHCET-AMU, IIT Delhi, BBD Educational Group Lucknow, Sri Ram Swaroop Memorial of Professional Colleges, Lucknow, VCE Bijnor, ATCO Industries Limited. His research interest areas are Artificial Intelligence applications in Power System, Load Forecasting, Smart Grid, Electrical Machine design, and Sustainable Energy Developments. Dr. Chauhan has been a revered mentor to numerous doctorate scholars and has a keen interest in research. He has supervised post graduate thesis at different State Technical Universities and Private Universities. He has been involved in organizing conferences/seminars/workshops and also had the honor of chairing the sessions for conferences. He has delivered invited talks at both governmental and nongovernmental organizations. He has been convener of faculty development programs & inter- engineering colleges technical fest meets in past. He has been member of various prestigious International Conference Technical/ Program Committee in India and abroad. He has been jury member for IEEE India National Level Project Competition. He is also a member of IEEE Smart Grid SIG Group. He is also member of various professional bodies such as IAE, ISTE, IACSIT, IEEE (PES), IEEE (SMC). He has been a member of moderation committee for theory courses for Electrical Engineering for State Technical University and private university alike.
Dr. Chauhan has been the recipient of 'Young Scientist Award' and 'Shiksha Gaurav Puraskar' conferred by Centre for Education, Growth and Research for research publications in International prestigious journal in Technical Education and for exemplary contribution to education respectively. He was awarded 'Teachers Excellence Award 2014' by Confederation of Education Excellence (CEE) for his contribution in Research publications. He has been a member of Central Admission Board, AKTU, 2015-16; member of Research Degree Admission Committee (Electrical Engineering), AKTU, 2015-16. He was a Special Invitee to the Board of Studies Committee for Electrical Engineering, AKTU, 2015-16.

Dr. S. S. Chauhan
Professor (ME) & Deputy Director
Ph.D., (ME), M.Tech, BE (ME), LMISTE, LMAMM
Email: ss.chauhan@abesit.in
Dr. S.S Chauhan, a 1998 Mechanical Engineering graduate from the Marathwada University, M.S India, completed his M. Tech. from Dayalbagh University, Agra, India, and Ph. D from UPTU University, Lucknow. Upon completion of his B. Tech degree, he started his journey from Hindustan College of Engineering & Technology, Farah Mathura as a lecturer. After 4-years of work experience with Sharda Group of Institutions, he joined IEC College of Engineering, Greater Noida as a Sr. Lecturer. He was actively involved for the overall development of IEC as a Dean Planning & Development. Prof Chauhan also served as Head of the Department of Mechanical & Automobile Engineering at IEC during his tenure. He is actively engaged in teaching, research, and technology, and completed projects worth more than Rs. 30 Lacs. He established the academics at IEC University, Baddi in 2013.
As recognition of his international collaborations, Prof. Chauhan is associated with Prof. Marco Ceccarelli, (ASME fellow, Past IFToMM President, DrHonorisCausa) LARM: Laboratory of Robotics and Mechatronics, DIMSAT; University of Cassino for their research work. Prof. Chauhan is actively involved in teaching-learning process and taught more than 20 subjects in his teaching career. He was the member of Board of Studies (UG/PG Courses), Mahamaya Technical University Noida. He was also the Program Committee member and paper reviewer for NaCoMM 2011 Conference at IIT Madras.He has more than 20 research publications in reputed journals/conference proceedings, and delivered several invited/keynote lectures in technical institutes all over India. Prof Chauhan is having life membership of ISTE, Association for Machines and Mechanisms (AMM), and Robotics-Worldwide Club. He received Best Faculty award in 2011 and All Rounder Faculty award in 2012 at IEC Engineering College, Greater Noida. He organized a two days National Conference "11th National Conference on Industrial Problems on Machines and Mechanisms" (IPRoMM-2014) February 26-27, 2014 at Mechanical Engineering Department I.T.S Engineering College, Greater Noida (UP) under the aegis of Association for Machines and Mechanisms (AMM) with a grand success. He worked as Professor & Director at Skyline Institute of Engineering & Technology, Greater Noida (2014-17) before taking the current position of Professor & Deputy Director at ABES Insitute of Technology, Ghaziabad. He is also heading the Rexroth Bosch Germany Automation Technology Hydraulic System Centre of Excellence and CNC Lab at ABESIT.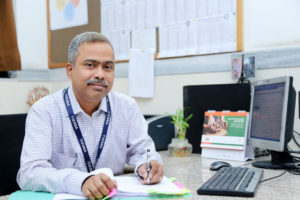 Dr. Dilkeshwar Pandey
Professor & Head, Department of Computer Science & Engineering
Email: dilkeshwar.pandey@abesit.in
He is a graduate of BIT Sindri, Ranchi University and Post graduate of Delhi College of Engineering, Delhi University. He has been awarded Ph.D. in the area of Image Processing & Pattern Recognition (Image Retrieval and Indexing) by DCRUST, Murthal (Haryana). He has been awarded National Merit Scholarship throughout undergraduate and graduate level.
He has published many research papers in various journals of International and National repute. He received the Best Paper Award in International Conference on Recent Advances in Science and Engineering (ICRASE), October 30-31, 2012. He has 26 years of mixed experience in teaching and software development. His main goal is to contribute in the transformation of computing education and explore opportunities for empowerment of practitioners of various domains through meaningful and human centric computing. He has organized several national workshops, seminar, conferences and convocation. He has been actively involved in FDP and R&D activities. He has been invited as a speaker at various platforms and chaired sessions in conferences. During his teaching career, he has taught various courses at undergraduate as well as postgraduate level e.g. Distributed System, Mobile Computing, Digital Image Processing, Soft Computing, and Artificial Intelligence. He has authored and reviewed some books. His professional areas include Digital Image Processing, Pattern Recognition, Machine Learning and Soft Computing.
He has been instrumental in setting up Big Data and IOT Lab in association with Datreon in ABESIT. Promoted R&D activities by successfully conducting national workshops, seminars, conferences and convocation in ABESIT. He was awarded "Teachers Excellence Award 2014′ by Confederation of Education Excellence for outstanding contribution in Education.
Prof. (Dr.) Sudhir Kumar Goyal
Professor & Head, Department of Civil Engineering
Email: sudhir.goyal@abesit.in
Prof. (Dr.) Sudhir Kumar Goyal has received his Ph.D. from University of Idaho, USA in 1996, M.Tech. from IIT Roorkee in 1986, and B.Tech from ZHCET-AMU, Aligarh in 1984. He contributed to the research and development of Synthetic Aperture Radar (SAR) Remote Sensing image data for soil-moisture measurement in his Ph.D. project with NASA and USDA-ARS, USA. He returned India after 21 years (1993-2014) in USA and worked as Director of BSA College of Eng. & Tech. (BSACET), Mathura UP, India, before taking the current position of HOD Dept. of Civil Eng., ABESIT. He published 10 technical reports and 9 research papers.
He worked as Hydrologist at Idaho State Department of Water Resources, Boise Idaho USA for 18 years (1996 – 2014), where he was involved in updating, maintaining, and using surface water models for planning and management of reservoirs and surface water supplies. He was in charge of coordinating the interaction of these studies with those of other Idaho state and US federal agencies.
He also worked as Adjunct Faculty at the Boise State University, Boise Idaho USA from 2010 to date, where he has advised several undergraduate and graduate students as well as postdoctoral research fellows at Boise State University in their research projects in the area of water resource management.
He worked as Scientist (1990-93) and Senior Research Assistant (1986-89) at the National Institute of Hydrology (NIH), Roorkee, India, where he was involved in research topics, which include water quality, water conservation, evaporation estimation and control, drought assessment and management, development of drought indices in GIS environment using remote sensing, meteorological, hydrological, and agricultural data of six drought affected (during 1985 – 1987) states of India.
He was visiting Scientist (January – March, 1992), International Institute for Aerospace Survey and Earth Sciences (ITC), Enschede, the Netherlands. There he learned principles and applications of GIS and Remote Sensing for Hydrologic Modeling. Evaluated ground water recharge to the Bandung basin (Indonesia) using water balance model in a GIS. Published two training reports and two technical reports on GIS related projects.
He is member of AGU (American Geophysical Union, USA), AAAS (American Association for the Advancement of Science), IACC (Idaho Agricultural Conservation Committee, Idaho, USA), IE (Institution of Engineers, India) and membership in The Honor Society of Agriculture, Gamma Sigma Delta, USA, which requires outstanding achievements.

Prof.S.B.Bajpayee
Professor, Proctor & Head -ABESIT Centers of Excellence & Innovations
Email : sb.bajpayee@abesit.in
Prof. ShyamBihariBajpayee is a retired Air Vice Marshal from Indian Air Force, having 36 years of experience in selection, installation, maintenance and training of high power radar stations, communication systems and high speed computing devices & networking in India and Abroad in leadership positions. He was awarded AtiVishishtSewa Medal by President of India on 26 January 2009 for his duty of exceptional order.
Prof S B Bajpayee has done his Bachelor of Engineering in Electrical from MANIT Bhopal, Master of Engineering in Advance Electrical Machines from IIT Roorkee and Master of Technology in Communication Engineering from IIT Delhi. He is FELLOW of IETE.
Prof S B Bajpayee has extensive industrial and administrative experience. He has worked as Chief Engineer of Botswana Defence Force at Botswana (Southern Africa) from 01 May 1988 to 30 Oct1991, Station in Charge of R&AW facilities from 01 Jun 2001 to 30 Nov 2005 and has extensively worked on state of art projects with reputed Organisations / Firms i.e. Westinghouse , Baltimore (USA ) , Thomson CSF ( France ) , CISCO ( India ), BEL ( Ghaziabad ) , CEL ( Sahibabad ) ,HAL ( Bangalore ) , ITI ( Bangalore ), Airport Authority of India , MTNL ( Mumbai and Delhi ) , BSNL , VSNL , Tata Communications ,HCL ( India ) , Reliance Communications ( Mumbai ) and many other small / medium industrial houses.
Prof S B Bajpayee has worked for more than eight years in Krishna Engineering College, Ghaziabad. He joined KEC as Professor in ECE Department on 11th May 2009 and worked as HOD (ECE) from July 2010 to Jun 2013. Since 11th May 2012 to 23 Jul 2017, he functioned as Dean (Academics). Prof S B Bajpayee has joined ABESIT on 05 September 2017 as Professor in ECE Department, Proctor and Head – Centers of Excellence & Innovations (CEI).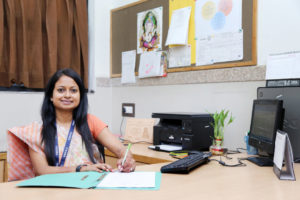 Dr. Sapna Katiyar
Head, Department of ECE & EEE
Ph.D., JamiaMiliaIslamia, New Delhi
M.Tech. (Communication Systems)
B.E. (Electronics & Communication Engineering)
Email: sapna.katiyar@abesit.in
Prof. SapnaKatiyar has more than 14 years of teaching experience with leading engineering institutions. Her research interest areas are Adaptive Control System, Image Processing, Communication Systems, Microcontroller and Artificial Intelligence. She has written seven books in the areas of Communication: Satellite, Optical, Advanced Communication Systems, Telecommunication and Television for UG and PG courses for UPBTU, RTU, PTU, MDU, and IP University and for all India level. She has published 6 papers in Index Journals, 4 papers in International Conferences and 20 papers in National Conferences. Prof. Katiyar received Teacher's Excellence Award for "Number of Papers / Journals and Books Published" by Confederation of Educational Excellence on 6th Sept, 2014. She is also active member of many professional societies: IEEE, ISTE, ISTD, IETE and Indian Women Scientist.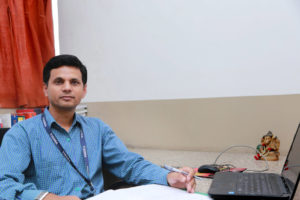 Dr. S. K. Arya
Head, Department of Applied Sciences & Humanities
Coordinator, B.Tech. First Year Academic Governance
Ph.D. (Thapar University, Patiala, Punjab)
Email: sk.arya@abesit.in
Dr. S. K. Arya has more than 16 years of Teaching, Research and Industry experience with leading Institutions and Laboratories such as National Physical Laboratory (NPL), New Delhi. He has also worked as Senior Research Fellow in DRDO funded project with Department of Applied Physics, BIT, Mesra, Ranchi. Dr. Arya experience includes as a collaborative trainee in SAIL Ranchi with R&D group for materials characterization, Ranchi. His area of research is Condensed Matter Physics and has shown his credential of research by publishing his work in International Journal of high repute like Royal Society of Chemistry and Journal of Physical Chemistry. Authored 11 research publications in International Journal of reputes and published various papers in National / International conference. Qualified benchmark in FDP on "Use of ICT in Education for Online and Blended Learning", approved by AICTE & organized by IITB.
Prof. Avinash Chandra Trivedi
Department In-Charge, Department of Mechanical Engineering
M.Tech. (Manufacturing & Automation), B.Tech.
Email: avinash.trivedi@abesit.in
Prof. Avinash Chandra Trivedi has 12 years of experience which includes two years in the field of an Automobile Industry before joining Academics, his area of interest and teaching are Industrial Automation, Engineering Mechanics, Fluid Mechanics, Refrigeration and Air-conditioning, Applied thermodynamics and Thermodynamics. During his academic period, he attended various National Level seminars and workshops.

Prof. Bipin Kumar Rai
Department In-Charge, Department of Information Technology
Ph.D.*(CSE), M.Tech. (CSE), B.Tech. (CSE)
Email:bipin.rai@abesit.in
Prof. Bipin Kumar Rai has 12 years of teaching experience in different renowned institutions. His areas of interest are Cryptography & Information Security, Compiler Construction, Operating System, Data Structures, Programming in C, etc. He has published his M. Tech. dissertation work titled "An Optimized Solution for Certified e-mail with Trusted Third Party" and published 8 research papers in International Conferences/Journals. He has worked as associate-editor of IJITA and as reviewer of JESIT journals. He received "Innovation Award" for Mentor of Team "Cerebro" by Ministry of Railways in Smart India Hackathon'17- World's biggest Hackathon.